Build
The Drupal platform that we will build will provide a wealth of features and functionality coupled with simple and intuitive administration screens to make every day tasks straightforward and plain sailing.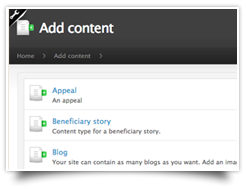 Powerful yet simple.
Content creation and management will be a key part of the daily process of managing the site. A streamlined user interface on the backend makes daily tasks a breeze.
See only what you need.
Well defined roles and permissions ensure that your team members and collaborators only see the tools that are essential to their role. Content editors only need worry about creating content, while members of the festival team can focus on managing the components that make up the festival.
Manage everything.
We believe the beauty of Drupal is the empowerment it provides content managers, and our goal is to maximize those opportunities for our clients. Content editors and Managers will have the ability to manage all aspects of their websites' content without ever needing to involve developers.
Tried and tested, documented.
Documentation and training is key to ensuring effective and efficient usage of a web system. The platform that we build will be well documented through its very own documentation portal, and supported through a variety of training medium